Forklift Brooms Vancouver BC | Forklift Sweepers
SweepEx Brooms Vancouver BC | Industrial Sweepers
Learn How To Convert Your Forklift Into A Yard Sweeper Using A Forklift Sweeper Attachment
Discover A Better & More Economical Way To Clean Your Facility & Yard
An Introduction to Forklift Sweepers
Forklift Sweepers are also known as: SweepEx Brooms, Lift Truck Sweepers, Forklift Sweeper Attachments, Forklift Brooms & Lift Truck Brooms.
Adding a SweepEx broom attachment to your forklift, skid steer or front end loader is easy and very affordable when compared with the cost of a dedicated ride-on style sweeper.
The SweepEx sweeper attachment is ideal for applications such as building supply yards, lumber mills, pulp and paper mills, manufacturing plants, warehouses, recycling yards, industrial sites, construction sites, farms, grain stores, landscaping supply yards and so on.
The SweepEx Broom System will handle a wide variety of material such as sand, snow, mud, gravel, glass, plastic, metal scrap, recycled scrap, garbage, leaf debris, grain, plastic shrink wrap and many other types of debris.
The cost of a SweepEx broom system is insignificant when compared with the labour costs associated with sweeping your yard manually using dedicated staff day after day, month after month, year after year. It only makes sense to find creative ways to make your existing equipment more versatile and this is one way to do that.
---
Forklift Brooms - A Selection Chart
SweepEx Value Brooms, Pro Brooms & Mega Brooms
Part #
Description
Application
Overall Width
Rows of
Bristle

V48

Value Broom

Light Duty

48"

5

V60

Value Broom

Light Duty

60"

5

P60

Pro Broom

Moderate Duty

60"

8

P72

Pro Broom

Moderate Duty

72"

8

P90

Pro Broom

Moderate Duty

90"

8

M60

Mega Broom

Heavy Duty

60"

11

M72

Mega Broom

Heavy Duty

72"

11

M96

Mega Broom

Heavy Duty

96"

11
---
SweepEx Broom Mounting Hitches
Most of the SweepEx brooms listed above can be mounted on the following types of equipment,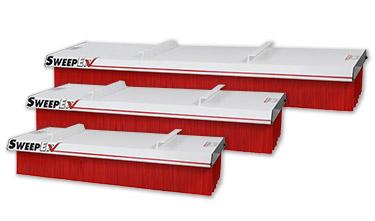 Forklift
Skid Steer
Front End Loader
Tractor
SweepEx Broom Accessories
SweepEx offers a wide range of broom accessories to suit every application.
Below is a partial list of the most popular equipment broom accessories,
Replacement Brush Sections
Heavy Duty Magnetic Strips
Dust Mops
Debris Collector Ends
Edge Marker Kit
Hydraulic Angling Kit
Use SweepEx Brooms To Clear Light Snow
Did you know that SweepEx broom can be used to clear light snow. SweepEx For Snow Removal
---
To learn more about why SweepEx could be right for you, check out our latest SweepEx Blog article.
View other unique and useful forklift attachments.
Contact Scott McLeod, President of Fleetman Consulting Inc., by calling (604)614-3530 or email at help@fleetmanconsulting.com for pricing and assistance in selecting the right SweepEx model, options and accessories.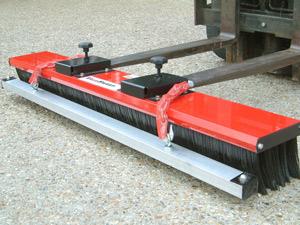 ---