Polyethylene Plastic Storage Containers For Sale Vancouver BC
Quality, Brand Name "SOS" Storage Bins Have Industrial Grade Features
Lockable High Density Double Wall Polyethylene Plastic Storage Bins
Storage of Salt And Sand, Marine Equipment, Tools, Emergency Supplies And More
Basic Polyethylene Plastic Storage Container Specifications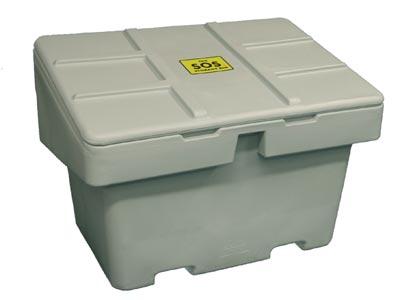 If you are looking for a heavy duty, industrial grade polyethylene plastic storage bin to safely and securely store and keep dry the contents inside, then look no further.
Depending on the exact unit you are interested in, some units have built in pad-lockable hasps, fork pockets, double walled lids and some are designed to be stackable or nestable.
These units are proudly manufactured In Canada.
For more information, contact Scott McLeod at Fleetman Consulting Inc. by calling (604)614-3530 or via email, help@fleetmanconsulting.com.
---