Forklift Forks For Sale Vancouver BC
Canada's Largest Selection Of Forklift Forks
For All Forklift Makes & Models
ITA Class 2, 3 and 4 Hook Mount Forks
Shaft Mount Forks / Pin Mount Forks
Fleetman Has The Best Selection of Forklift Forks in Canada
We sell ITA class 2, 3 and 4 hook mount forks in addition to shaft mount / pin mount forks.
The most common fork sizes are in stock for fast delivery. Check out our excellent selection below.
---
ITA Class 2, 3 & 4 Hook Mount Forks
View
Inventory
Mounting
Class
Carriage
Height

(a)

Distance Between
Hooks

(b)

1
13"
12.05"
2
16"
15.04"
3
20"
18.78"
4
25"
23.54"
5
28.67"
26.77"
VIEW FULL FORKLIFT FORK INVENTORY
ITA class 2, 3 & 4 hook mount forks are professionally engineered to be interchangeable between all makes & models that are using the same ITA class because the ITA dimensions are considered the industry standard.
If you have a particular requirement that falls outside of our standard list of fork options, please be sure to contact us. We can supply virtually any type of fork with various lengths, widths, thicknesses, tapers, polishes, tip styles, capacities and more.

---
Pin Mount Forks / Shaft Mount Forks
Determining the right type of fork to fit onto a pin / shaft style forklift carriage is more involved than a regular ITA class hook style of carriage.
An on - site visit to your facility is the only sure way to make sure you order what you need and that it fits properly.
Pin style / shaft style forks are typically found on lift trucks that have in excess of 12,000 lbs gross chassis capacity.
A pin mount fork can also be adapted to fit onto an existing ITA class 2, 3 or 4 carriage which is typically found on forklift equipment having less than 12,000 lbs gross chassis capacity.
Pin style forks can be adjusted left to right much easier than ITA hook mount forks. Being able to adjust the forks easier is appreciated in applications that are handling different pallet sizes or when dunnage is not placed in a consistent location therefore requiring the operator to continuously adjust the forks from one load to the next. In some applications, using a hydraulic fork positioning attachment could significantly improve productivity and minimize exposure to WorkSafeBC claims.
---
Special Application Forklift Forks
Some customers require custom forks such as drywall forks, gypsum forks, lumber forks, plywood forks, stainless steel forks, brick forks, block forks, spark retardant forks, coil handling forks, drum handling forks, quick disconnect forks, folding forks, bolt-on forks, corrugated forks, tire forks, offset forks, inset forks, peek-a-boo forks, anti-slip forks, tin plate forks, rotator forks, inverted forks, roller forks and so on.
Please contact us for a detailed quotation.
---
Complimentary On-Site Forklift Fork Inspection Service*
Contact Fleetman Consulting Inc. today for a free on-site forklift fork inspection to determine if your existing forks are worn out and need to be replaced.
For many types of forged forks, a 10 percent reduction in fork blade thickness results in a 20% loss of capacity so it is important to have them checked regularly. Per ANSI/ITSDF B56.1 – 2012, 6.2.8, the regulation suggests that forks be checked at least once per year for single shift operations and more often in severe applications.
Improper carriage chain adjustment, which causes the forks to drag along the ground when the mast is fully lowered, significantly contributes to avoidable fork wear. It is also important to check the fork's heel angle ( a leading indicator of bent forks ) which is often overlooked.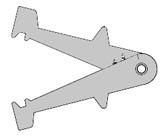 *This complimentary service is offered in the lower mainland of BC only.
---
The Most Popular Forklift Fork Blade Options
Standard pallet taper
Full bottom taper with top polish ( aka lumber taper )
Full top taper with top polish
Two stage bottom taper with top polish
Various different fork tip shapes
Various different fork tip bevel styles
Inside heel radius can be modified to minimize load damage
Anti-slip blade surface
Holes at the tip of the fork blade
Fork tip locator bars
View more information on forklift fork blade options.
---
Available Forklift Fork Accessories
Standard and heavy duty fork extensions
Magnetic fork covers
Fabric fork covers
---
Choose the Right Set of New Forklift Forks
Fleetman Consulting Inc. has the industry experience to help guide you through the process of selecting the right set of forks for the job.
Our experience will help you maximize productivity, minimize product damage and keep the workplace safe in a way that also minimizes cost.
There are many options and choices when selecting a new pair of forks. Count on us to help you make the right choice.
---