Forklift Dust Mops Vancouver BC
Industrial Dust Mop Attachments Designed To Clean Warehouse Floors Fast
Easy-To-Use
Save Time And Money
Dust Mop Attachments For Forklifts
Have you ever tried to dust mop a large warehouse floor by hand?
Not only is it time consuming and costly, particularly when labour resources could be better utilized elsewhere, but it's also not very enjoyable.

Today, using our forklift dust mop attachment, you can clean your warehouse in no time and at a fraction of the cost when compared with traditional mopping methods.
We offer warehouse dust mops, industrial dust mops and commercial dust mop options that suit a wide range of applications.
In some cases we offer forklift dust mops combined with a forklift broom attachment so you can clean up large and small dust and debris at the same time.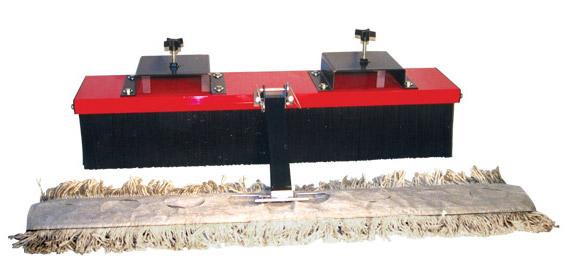 Justification
Although your situation is likely different, consider a large warehouse that would take 2 people a total of 2 hours each to clean by hand. It would be safe to assume that a typical warehouse worker would make in the range of $20 per hour. Let's also assume that the warehouse would be cleaned once per week. Therefore, 2 people x 2 hours per cleaning x $20 per hour x 52 weeks = $4,160 per year.
On this basis you will recover the costs of the forklift dust mop attachment in less than one year.
I would encourage you to complete a similar analysis of the costs that would be applicable to your operation to see if this new approach will save your company time and money. We would be happy to assist you with this analysis.
Contact Scott McLeod, President of Fleetman Consulting Inc. by calling (604) 614-3530 or by email via help@fleetmanconsulting.com.
---